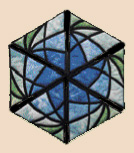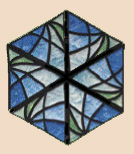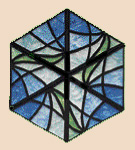 Star Dance © Kathleen Bissett 1994
1994
Modular Hexagon, 15" x 17"
Hand appliquéd and quilted
This is an original modular design. After designing square modules I became intrigued with the idea of using equilateral triangles to made a modular hexagon. In 1994 the theme of the Canadian Quilters' Association's National Juried Show was "Heavenly Bodies". Star Dance was juried into the show with its "dancing" star. The design employs six modules, which can be rotated in any way. It has been designed so that there are numerous pleasing arrangements.
All Rights Reserved. All images and content © 2018 Kathleen Bissett